The Girton College Shop

Welcome to our official merchandise site
New publication
'Girton Time'
Carol Adlam, former Artist in Residence, celebrates Girton past and present in her new book!
Girton Time is a conversation in artwork and poems about Girton College. Here you'll find paradoxical boxes, giant eggs, teenage trees, homesick students, outlaw cyclists, optical prostheses, interstitial vacuities, an Arnolfini mirror, thumb wrestling, mummies, mistresses, Crackers (the dog, not the snack), black cider, saxophones and violins, lost orchards, hidden staircases, secret basements, the occasional squirrel, and even a Girtonian captured in their natural habitat. Here you'll see the College as never seen before: as a place of daily work and camaraderie, and as a paradoxical queendom that teeters on the edge of the A14.
Girtonians Adam Crothers' and James Wade's poems sit alongside the artwork, agreeing and disagreeing, remixing and riffing on its themes of daily time and deep time that underpin the life of the College in all its variety.
Limited Edition artwork by Naomi Davies
'Girton College in the snow'
Limited edition giclee print of pen and watercolour painting:
SMALL – supplied in an 8″ x 10″ mount £45
MEDIUM – in a 30cm x 40cm signed mount (in
simple white Ikea frame if you can collect from CB1) £90
LARGE – in a 40cm x 50cm signed mount (in simple white Ikea frame if you can collect from CB1) £120
Buy online: http://naomidaviesart.co.uk/girton-college/
About the artist:
Naomi Davies is a popular Cambridge based pen and watercolour artist. She has lived most of her adult life in the city, since coming up to Jesus College. She paints all aspects of Cambridge life – its colleges, cafes, open spaces, houses, cyclists and even robots. She has been commissioned by colleges, individuals, businesses, and the University itself.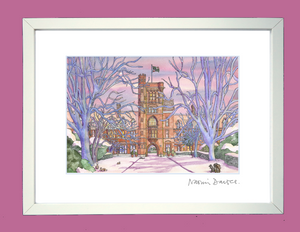 Featured collection - Yelena Popova
Our 150th Anniversary collections